Breast Implant Surgery, Breast Augmentation Surgery, Breast Fat Implant Surgery In India, Mumbai, Navi Mumbai, Bombay, New Delhi, Bangalore.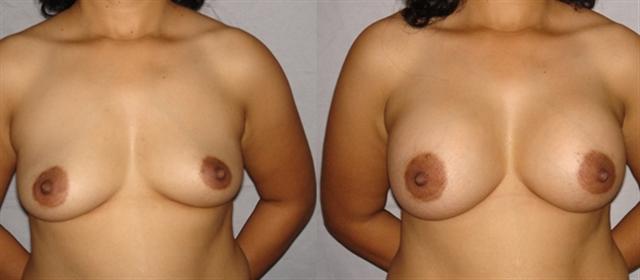 Breast Implants - No one does it better
Breast Enlargement can be combined with Tummy Tuck, Multiple Area Liposuction etc.
Breast Augmentation Surgery
Breast Enlargement Surgery, Breast Augmentation Surgery, Small Breast Surgery, Breast Silicone Surgery, Breast Fat Implants Surgery etc. - Breast Augmentation procedures are often combined with Breast Lift Procedure (mastopexy) for best results. Combined procedure saves both time and money besides produces very good results. The final decision however lies with the patient after consultation.
Caution !! Is your surgeon Exclusively and Specially Trained for 'Best Results' and 'Breast Implant Patient Safety' By Large FDA Approved Foreign Breast Implant Manufacturing Companies Like Johnson & Johnson / Mentor ?? The Likely answer is "No". Time to think before you decide. Only a very few handpicked and selected surgeons in India have received this cutting edge exclusive additional training. Pause To Think And Choose Wisely !!
Breast Implant surgery is now being preferred by ladies of all ages, Young, Middle Aged and Old. Both married and un-married females are opting for this procedure to enhance their confidence, figure, appeal and looks.
These decisions are most personal and rather difficult for others to comprehend. It's important as to how one feels about it. If you feel that you have met your goals, then your surgery is a successful and rewarding. For many women, the result of breast augmentation surgery are satisfying, or even exhilarating, as they realize to appreciate their fuller appearance.
Breast

Silicone Implants
Silicone Implants of different sizes to suit your needs. Silicone implants have long been approved by FDA. Only FDA approved Silicone Implants are used.
Breast Fat Grafting This procedure involves harvesting fat cells from the patient's own body and placing them in the breast area as Breast Fat Implants.
Clinical Names Augmentation Mammoplasty / BBA - Bilateral Breast Augmentation / Breast Enhancement Surgery.
Breast Implant surgery is for those females who feel that their breasts are small in size and volume.

Breast Augmentation is also for those females whose breast size / bust size is much smaller than what it should normally be in proportion to the rest of their body / figure.

After pregnancy females loose breast volume and may be left with small sagging breasts. This can be corrected by Breast Implants. The best time to get breast implants after pregnancy is after the breast feeding is over.

Loss of breast volume after weight loss can result in loose sagging breasts. Breast Implant can firm the breasts and correct this twin problem of small and sagging breasts. Weight loss can occur due to many reasons.

The enhanced breasts after breast implants look and feel natural.

Breast feeding is possible after breast implant surgery just as it is before the surgery i,e, breast implant surgery does not prevent breast feeding.

FDA approved breast silicone implants are the safest. These are costlier than the cheaper non FDA approved imitations but make perfect sense to ensure safety.

Breast Implant surgery is considered safe and there is no clinical data linking breast implant surgery to onset of any disease.

Breast implants of various sizes are available. Female patients can pick the most suitable size in consultation with the surgeon at the time of personal consultation.

Post surgery scar are hidden in breast and body folds and are not readily visible. These scars fade to a great extent with the passage of time.

The following procedures can be combined with Breast Enhancement surgery.
Breast Augmentation + Breast Lift (For those patients where sagging can not be corrected by implants alone). Please refer to the Breast Lift section for more details.

Mommy Makeover - Recommended after pregnancy once the breast feeding is over. Could be anytime after six months of delivery. These multi procedures are aimed at restoring pre pregnancy status. Please refer to the Mommy Makeover section for more information.

Tummy Tuck - For loose and protruding tummy. It is a common condition after child birth and also as the age advances - maybe 30 years onwards. For more details please refer to the Tummy Tuck section.

Liposuction - Unwanted excess fat can be got rid by Liposuction. The common areas are Arms, Under Arm Lump, Back, Side Bags or Love Handles, Tummy, Thighs, Hips / Buttocks, Pubis, Calf, Cheek, Chin. Please refer to the Liposuction section for more information.

Body Lift - Loose hanging skin can be tightened. It could be Arm Lift - Brachioplasty, Face Lift, Back Lift, Full Body Lift, etc.

Vaginal Rejuvenation - Vaginal Rejuvenation consists of many surgeries for vaginal correction before marriage, before child birth or after child birth. These are Vaginoplasty - for tightening of vaginal muscles, Labiaplasty - for correction of labia minora of labia majora, Clitoral Unhooding - for exposing the clitoris, Pubic Lift - for removal of excess fat deposit and removal of pubic sag. Please refer to the Vaginal Rejuvenation section for more information.
Breast Enlargement Surgery Explained
Commonly either of the two methods are used for Breast Augmentation Surgery - See Below.
Breast Silicone Implants Surgery : Normally carried out through implanting a silicone shell filled with silicone of desired size. This is surgically placed behind each breast by cosmetic & plastic surgeons to increase the size and or change the appearance of breasts. These Silicone implants come in different sizes and shapes to suit the patient needs. The method of inserting and positioning the implants will depend on your anatomy and your surgeon's recommendation. The incision can be made either in the crease where the breast meets the chest, around the areola (the dark skin surrounding the nipple), or in the armpit. Every effort will be made to assure that the incision so is placed such that the resulting scars will be as secretive as possible. The surgery usually takes roughly three to four hours to complete. Stitches are used to close the incisions, which may also be taped for greater support. A gauze bandage may be applied over your breasts to help with healing.

Breast Fat Implants : Also known as Breast Fat Grafting. This surgical procedure is a combination procedure of Light Liposuction and Fat Implants i,e, Grafts. First of all the Plastic and Cosmetic surgeon harvests excess fat from donor areas such as abdomen, thighs, hips, back etc. through light liposuction. These extracted fat cells are then injected using special syringe in the breast area. The procedure is less invasive in comparison to the Breasts Implants procedure and the patient is normally mobile within 3 days of surgery and the healing for liposuction cum fat grafting is over within a fortnight (2 weeks).

The Advantages of Breast Fat Implants procedure (Breast Fat Injection) are that it needs lesser time for recovery and the chances of any rejection of own body fat are zero. Because of light liposuction of unwanted body fat the patient's body attains a somewhat much more contoured and youthful look.

The main Disadvantage of Breast Fat Grafting procedure (Breast Fat Injection) is that the injected fat cells gets absorbed by the body - it is a natural process. It has been seen that anything between 25% to 50% of the injected fat gets absorbed during the first 90 days of Fat Grafting. There after (After 90 days) whatever fat is left it remains intact permanently. What percent of fat would be absorbed by the body after Buttocks fat grafting varies from individual to individual.
Breast Augmentation Surgeon's / Breast Implant Surgeon's Profile :
Currently facility for All Breast Surgeries including Augmentation is available in India at Mumbai, Delhi and Bangalore. The surgery is performed only by super specialist senior surgeons who have many years' of experience in this surgery and have an impeccable record to their credit. For more information please click on surgeon profile. Also the services of Female senior super specialist Plastic and Cosmetic Surgeon are available.
You will have to schedule a consultation to meet the super specialists. Please go to contact us for details.
Time Required For Breast Implant Surgery:
It takes between 3 to 4 hours for Breast Augmentation surgery and is done under general anesthesia. This is true for both breast silicone implant surgery and for breast fat implant surgery. The patient will be discharged from the hospital either the same evening or the next morning depending on the progress.
Breast Implant Post Operative Information
As your breasts will probably be sensitive to direct stimulation for two to three weeks, so you should avoid much physical contact in this period.
Breast Implant Scars will begin to fade in four weeks and to a great extent by the end of the year
Breast Enhancement Surgery Related Facts That You Should Know
Fortunately complications of breast enlargement surgery are uncommon. You should be able to return to work within a few days, depending on the level of activity required for your job.

Some women report that their nipples become oversensitive, under-sensitive, or even numb. You may also notice small patches of numbness near your incisions. These are temporary symptoms and usually disappear with time.

There is no evidence that breast implants will affect fertility, pregnancy, or your ability to breast feed.

There is no evidence that breast implants cause breast cancer.

Selecting a predetermined size of implant in your mind is the surest way to be disappointed. Don't get too set on an exact implant volume, shape or size. Each implant will appear different when placed in say ten women or for the matter even a hundred women as each lady's individual characteristics are distinctly different. Rest assured, your plastic surgeon will always consider all options and select and advise you on the best that would suit in your case.
Breast Augmentation Before & After :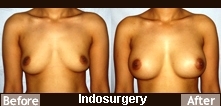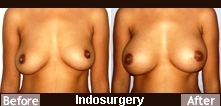 Contact Surgeon/ Consultant :
Contact us to schedule a consultation with the surgeon, schedule and organize surgery, or more information etc. You may either call or drop a mail. Please click CONTACT US.
Breast Enlargement Surgery Costs
Happy Serving EXCLUSIVELY A SELECT FEW Who Value Quality And Results.
For Cost of Breast Augmentation Surgery you will have to discuss your case with us. The costs are different from patient to patient depending on the condition of the patient and the choice of implants etc. However, Indosurgery's Best Price Policy ensures Breast Enlargement Surgery at Reasonable Costs - much less than what is charged by many hospitals. Our transparent policy on costs is available under the COSTS section please click on COSTS to view it. We request you to CONTACT US for more patient specific cost information.
International patients may kindly go through the International Patients section also.
Other Useful Links
---
Health Care Tip :
Liposuction, Tummy Tuck, Breast Surgeries Are Safe And do not have any side effects
Breast Augmentation Surgery In India